Case study: High-demand workers
Today's users are no longer prepared to suffer poorly performing, sluggish applications. IT must deliver the native level of performance. Zirtu does just that, while maintaining full centralization of the environment.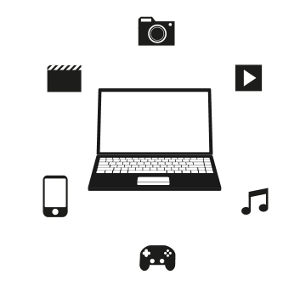 A multinational pharmaceutical company with more than 60,000 employees, was desperately trying to balance the needs of its IT staff and of its end-users.
The company's end-user professionals rejected all attempts to switch to centralized virtual desktops. They needed to use high-performance applications with complex data sets, many of them user installed. They needed to connect to external data acquisition devices, which also required using drivers. Most of all, they needed instant responsiveness and zero latency on their machines - even when away from the headquarters.
Traditional virtualization - either Type 1 or VDI with Type 2, fell short of supporting the requirements above. After all, using a virtual machine limited the amount of available resources and the ability to run high-demand applications, and its virtual hardware layer prevented access to non-standard peripherals. Users took notice  - ultimately preferring their traditional ("physical") desktop to the virtual one.
Zirtu utilizes a different approach. It delivers a complete, personalized workspace to the user - natively on the end-point hardware, without a redundant "host OS" and without a cumbersome virtual hardware layer. By decoupling the layers of said workspace, Zirtu is able to deliver the workspace consistently across different end-point devices.
Most importantly, user experience remains truly native, and the workspace works and behaves just like a "traditional" desktop - fulfilling the high demands of knowledge workers, while gaining the benefits of centralization and cross-device access.
Zirtu delivers native experience to knowledge workers -
while making end-points stateless and workspaces centralized
With Zirtu, the company is able reach the following:
Physicians' laptops and workstations become fully centralized and state-less - solving client-side computing issues for IT, and making end-points stateless.
The end-user experience remains intact. End-point devices work and perform exactly as before, fully supporting all the applications and peripherals the end-users require. While being centralized, all laptops are fully operational even when offline.
In addition to maintaining their experience, users gain the ability to use any laptop or workstation they want, retaining their personalized workspace
BYOC becomes available as well, allowing the use of custom and personal laptops
Results
IT was able to balance its needs for efficiency and state-less end-point management with the high demands of its users
End-user rejection of virtualization was eliminated due to experience level being maintained throughout the transformation
Overall reduction of up to 40% in end-point management cost
Reducing disaster recovery time to minutes for initial productivity and less than 2 hours to full recovery
Next steps
For questions and estimates for your specific environment, click here to contact us.
Get Zirtu | Check the Reviews | Learn more about the Technology
physicianphysician